There is a wonderful quote in a book I otherwise think is fair-to-middling (if that – Edvard Radzinsky's The Last Tsar: The Life and Death of Nicholas II):
Nicholas kept a diary for thirty-six years without interruption. He began it at the age of fourteen, in 1882, in the palace at Gatchina, and ended it as a fifty-year-old prisoner in Ekaterinburg ….

This diary contains no reflections, and opinions are rare. He is terse – this taciturn, retiring man. The diary is a record of the principal events of the day, no more. But his voice lingers on its pages.

The mystical force of genuine speech.

The revolution punished him without trial, not allowing him a final say. The portrait of this puzzling man was created only after his death – by his opponents and his supporters. Now he himself can speak in the words he himself once wrote. I leaf through his diary. One experiences an eternal yet banal sensation in the archive: one feels other hands, the touch of hands across a century.
I just spent a week in the Shanghai Municipal Archive (上海市档案馆) tying up some loose ends. Archives are funny places: even when you're not reading something as personal as a diary, there is something of that 'feeling other hands.' Even in the neatly typed and seemingly impersonal reports, those echoes are there – personal voices come from the most unexpected places. Most of my materials are bureaucratic detritus – typed records of things no one has thought about in decades, reams of 统计表 (tongjibiao, charts of statistics), scribbled communiqués back and forth between various government ministries. No smoking guns, no highly recognizable names. Certainly no diaries from deposed emperors. And yet ….
Archives in China are doubly funny places: even when your materials are merely the detritus of a somewhat bloated bureaucracy, there's a shroud of secrecy drawn over them. Talk to a China scholar who has spent any time in PRC archives, and you're likely to get an earful about some horrific experience or another. While my project isn't precisely Shanghai-centric, topic-wise, I made a strategic decision in doing most of my work in the city. The archives there are pretty mellow, and access is quite open. We all know there are files nobody but Party historians are getting access to, but at least at the SMA, the stuff that's out in the open is there for the taking. It's a downright pleasant place to work – the fact it's tucked on one end of the Bund and overlooks Pudong doesn't hurt.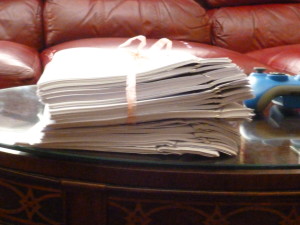 I hauled home a not insignificant chunk of photocopies, and I'm in the process of sorting and scanning them (well – the hundreds of pages of statistics are joining the hundreds of pages I already have; scanning adds an extra step as it is, no reason to be a masochist about it). It's entirely banal yet somehow extraordinary. As much as putting the pieces of my narrative together is driving me batty at the moment, there is something really wonderful about wallowing around in sources and feeling those 'other hands' – even if they are unseen hands of an unknown bureaucrat, and not those of a highly mythologized ex-tsar.