Research is a funny thing; you sometimes find connections where you least expect them. I've been trawling through the database Duxiu, checking up on a few things that have popped up in archival sources. I checked up on a common search (the dramatist Meng Chao – who really made his name as a poet in the Republican period) and turned up an article I'd never seen before. It was published in a journal I don't usually associate with dramatists (Xin tiyu – on sports and athletics) on a pet subject of mine: high altitude mountaineering. Specifically, the 1960 ascent of Mt. Everest (or Qomolangma), which may or may not have been successful. I've been dying to write a paper on mountaineering in China after 1949 – I read one of the few (maybe the only?) academic books on Himalayan climbing last year & it simply increased my feeling that there's a cool story to be told about China's role in all of this.
In any case, it was with some surprise that I noted this poem written by a central figure in my dissertation on a subject I nurture a hope to write more on. Perhaps this is the shove I need? Check out this glorious stuff:
Ice axes like iron plows
Clawing at the ancient virgin ridge;
Crampons like sharp knives
Splitting open the numerous layers of the icy mountain;
The oxygen is exhausted,
A heroic spirit fills up their hearts;
Their physical strength used up,
Heroic willpower surpasses the east wind.
The monograph I mentioned above is great because it puts mountaineering expeditions into a bigger narrative about conquest, colonialism, dominating the earth – I haven't yet turned up anything written on this from the Chinese side of things, but here's my start.
Chinese earth has brought forth heroes.
Heroes have climbed one of the highest peaks,
What high peak is left that cannot be climbed!
The heroes have produced a great miracle,
What miracles are left that cannot be achieved!
Long live Chairman Mao and the Party etc.
Six hundred million heroes
Are just one mountaineering party
Climbing mountain after mountain
Climbing range after range
Six hundred million heroes
Gathered atop a high summit …
I personally love the description of the PRC as "one mountaineering party" and endeavor to use this more often when talking about the socialist period.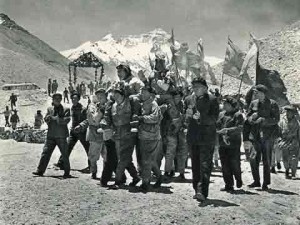 In other news, my first article was recently published – featuring (who else?) Meng Chao & his gorgeous ghost. "A Ghostly Bodhisattva and the Price of Vengeance: Meng Chao, Li Huiniang, and the Politics of Drama, 1959-1979″ is out in the Spring 2012 issue of Modern Chinese Literature and Culture. I owe huge amounts of thanks to Ye Wa, Larissa Heinrich, Paul Pickowicz, Jenny Huangfu, Amanda Shuman, my research seminar classmates from 2009, and two anonymous reviewers at MCLC for their advice and comments, though of course – all errors remaining are mine alone.