After a delightful two week trip to Beijing, I returned home to (quoting myself from elsewhere)Â "a horror scene of slug trails, dead and dying slugs all over the floor in my main room. Luckily I didn't notice that one had been cruising around on my bed until the next morning. Â  I had noticed trails here and there on my carpet (but not thought 'Oh, slug problem') and caught a few parked on sponges in my kitchen a few months back, but thought it was an isolated issue. I thought wrong, clearly."
It took several rounds of hysterical calls to my landlord and the dedicated efforts of his wonderful handyman to fix the issue (mostly). Â And gross as it was, the Great Slug Infestation of 2011 (the first and, I sincerely hope, only time I will have to deal with such an issue) somehow spurred me out of my own, well, sluggish period. Â The past 6 months haven't been "as" productive as I would have hoped, but I'm back on track and not feeling as slow as the slugs that were having a field day in my kitchen.
Still, a couple of recent events reminded me that I'm pretty terrible at being immediately relevant. Â I look in awe upon people who can magically whip up a response to writers and current events instantaneously – while I'm a pretty zippy writer, all told, it's quite difficult for me to write unless a deadline is looming and/or a piece is writing itself. Â I guess I've got a bit of slug in me, since in the past month I've had at least 3 hot button issues I've started to respond to & then simply abandoned. Â OK, perhaps "abandoned" is too strong a word; I'll get around to finishing them … someday … maybe.
The most recent was Daniel Cook's "A Blunt Critique of Game Criticism" (its current form is an edited version of the one a lot of us first saw). Â The original essay had me pretty frothy with rage for a few days, and while I sat down to write a response, only unpublishable snippets of text came out. Â There were plenty of things I wanted to respond to with barely contained indignant fury – the slights against "game illiterates," academics, all the other unworthies; the intimation that somehow, all those bits and pieces of writing that Cook disagreed with were crowding out stellar pieces of "worthy" game writing written by game literate people; the idea that fluffy humanities people were crowding out the "real" researchers (scientists); the arbitrary typology of writers that didn't make much sense. Â A lot of people jumped into the fray while I was sputtering up sentences here and there (Ben Abraham made a handy list), and said a lot of things as well or better than I could have (clearly). Â But I typed away while cataloging archival finds, determined to finish an entry.
Then I thought … what's the point? Â Like a lot of these discussions, we're chasing our own tail. Â What Cook wants is more (better) writing for his particular niche interest (design and development); what I want is more (better) writing for my particular niche interest (not design and development); what we're lacking overall is high quality, thoughtful writing that's not geared toward niche interests. Â Is there a lot of atrocious writing out there? Â Yes. Â Would I like to see a wider variety of quality writing, no matter what its thrust? Â Yes. Â Do I think poking sticks at those of us who aren't designers or developers – nor, in some cases, particularly interested in writing about that side of the industry – is going to improve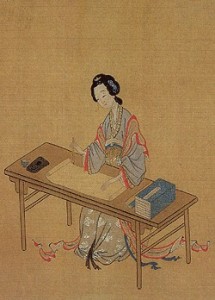 "game criticism"? Â Absolutely not. Â What Cook's "call to arms" for people who "ought" to be writing "proper" game criticism is missing is a simple fact: a lot of people can't write cogently, never mind thoughtfully and in a manner that holds the attention span of people who are interested in the subject. Â While Cook points out that developing games doesn't mean one can write about them, he pegs this as a problem of selecting one's viewpoint.
… If only! There's a lot of bad writing out there on all subjects.  Most pertinently for this discussion, there's a lot of bad writing out there on games.  Period.  It's not confined to academics coming from the humanities or eighteen year old fanboys.  I wonder how much time Cook has spent poking through the nooks and crannies of blogs on Gamasutra: there's good writing, sure.  There's also a lot of terrible writing on a wide range of subject matter.  Being "game literate" to Cook's standards doesn't mean being culturally literate and capable of writing to my standards.  It's not that these things are mutually exclusive (obviously not, there are plenty of examples – including Cook! – to show that you can be quite technical and adept with language at the same time).  But as the blurb at Lost Garden says, "You've found a rare treasure trove of readable, thoughtful essays on game design theory, art and the business of design" (emphasis mine).
I also find the narrow view of what constitutes "game criticism" (and writing on games more broadly) troubling. Cook muses that "[in] all of this I sense an odd fear. What is so dangerous about being an engineer-geographer-historian-poet-lawyer? I only see benefits to the community as a whole. The only risk is that individuals comfortable in their current niche might need to change and grow." Â However, the assertion that there is one form of game criticism (discussion of game design from a design/ers perspective) that is more desirable, or intrinsically more valuable than other forms strikes me as the position that is cutting off possibilities that rise from the hyphenated "forms of being" Cook throws out. Â I'm not running scared of developers or designers, and I'm happy to defend my position – I also think I have a record in the blogosphere that attests to the fact that I've been quite open to reading, writing about, and publicizing a really wide variety of writing from a number of angles. Â I have certainly never advocated for a position that needlessly insults a number of talented individuals, regardless of whether I personally found their niches captivating.
I say that as someone who has been linked on Critical Distance (and used to write for Kotaku, "promoting" – or at least giving a bit of page space – to all sorts of writing that I liked very much, from Cook's prototyping challenges to "I" pieces written by students and academics). Â I don't see myself fitting in particularly well to Cook's typology of "game criticism"; I suppose the area that would come closest would be "Connecting games with the humanities: An academic exercise in which various aspects of games are described as being part of an ongoing structure of philosophy, movie criticism, literary criticism, art history, rhetoric, etc." Â Except that doesn't fit at all. Â On the most basic level (leaving aside Cook's really narrow definition of what constitutes "the humanities," at least based on that list), I'm generally less interested in writing about the experience of games than I am about the discourse surrounding games, just as I am generally less interested in the performative aspects of opera than I am about the discourse surrounding opera. Â This is a position that opens me to criticism from a number of sides, which I'm OK with – at the foundation of research is doing things we enjoy and we find interesting. Â I am not interested in picking apart design issues (nor am I qualified to beyond an experiential reaction). Â Ergo, I generally don't write about specific games in any of the ways that Cook lays out as types of "game criticism." Â A lot of people who Cook is, by default, taking aim at don't – but that doesn't mean that we don't have something to contribute.
Simply put, we don't have such an excess in terms of really, really good writing that there's not enough room for everyone. Â Really. Â Cook may dream of better writing of the type that he wants to see, to the exclusion of what he takes as useless noise on the internet; I dream of better writing across the board, better research, better understanding on the whole. Â We can all enjoy our own niches without resorting to belittling the positions of others. Michael Abbott of the Brainy Gamer said it much better than I can:
I accept Dan Cook's encourgement to deepen my understanding of games from a designer's perspective, and I'm persuaded that I can benefit from doing so. I hope he and others will accept the value of experiential, comparative, theoretical and other forms of criticism as no less vital to the evolution of video games as an art form worthy of careful consideration from many points of view. I can tell you from first-hand experience that territorialism and boundaries of expertise have played pernicious roles in academia. We mimic those behaviors at our own risk.
[Finally, on a bit of a personal note. The following characterization of historians is quite possibly one of the saddest views of history (and the historian's craft) that I've ever read:
I understand that there are people who prefer to be historians and catalogers of culture. Â There is still room for both catalogers and people who dream about the future.
Some historians – not all, but a great many – are dreamers, and dream not just of the past but of the future.  Much of written history reflects more on the author's present than on the past, and often points to a "dreamed of" future – whether we agree with that projected future or not.  I'm certainly not spinning my wheels in archives so I can simply catalogue a phenomenon; my hope is to do work that will say something about where we are now, how we got there, and where we'll be going. So too with my work that isn't "properly" historical: how can you dream of a future without understanding where you've come from and where you are at present?  Cook and others may not be interested in the work that many of us do, but that doesn't mean we're not dreaming and it certainly doesn't mean we aren't thinking about the future.]