Immediately following on the heels of a family visit (and lots of Kindle reading!), I headed up to Beijing for a work-personal visit, which has actually been really great for work overall (and recharging my batteries in a different sort of way). Â Shanghai has been oddly isolating, particularly after coming off of three years of a small, close knit program and people within easy reach most of the time. Â And, to be fair, perhaps a lot is due to some of my inherent shyness and general dislike of "going out to meet people" (where people mean strangers, without the veneer of some common interest, as at academic conferences) – or even just being friendly with strangers at the coffee shop. Â I'm just generally not feeling up to that sort of personal interaction on my own, nor do I find it pleasurable in the least (not the random encounter in a restaurant or coffee shop). Â In any case, my generalized-yet-subtle angst with the situation seeped into my work (or lack thereof). Â I'm pretty sure I've gotten more done this past week than I have done in the past two months!
Some of that is just finding myself in wonderful, well trod old patterns with good friends. Â A cohortmate, actually (meaning we've been together since our first fledgling days as PhD students), and her husband; other than the change of scenery and food options, it feels like old times when we lived only a few blocks from each other in San Diego. Â The only thing missing is my erstwhile pit bull, Torres, begging for food & mugging people for snuggles and tummy rubs. Â The pattern of work or hanging out – three people in one room, sipping coffee and tethered to respective laptops, with occasional commentary on whatever we're doing punctuating the quiet – is familiar from other well-loved friends. Â All told, I feel very at home – which means I've been cheerfully humming along with productive, grad student-y things (papers, research, translating, woo).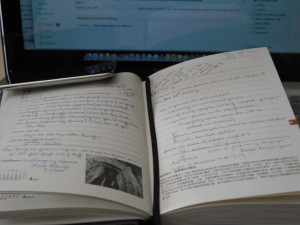 While I can't package them up neatly and bring them back to Shanghai with me to ensure continued productivity, this kickstart to work is something I will be bringing home – as well as my scribbled notes from my meeting with my advisor who happens to be in Beijing this year (the other is holding down the fort at UCSD). Â I've been pretty radio silent since arriving in Shanghai – a not entirely natural state of being for my garrulous, more prone to not shutting up than being too quiet self – and it was nice to lay out what I have gotten done (and get instantaneous feedback). Â My trusty Eslite dayplanner – which I have studiously acquired one of each year since 2006 – has a mere two pages filled, but somehow it's enough. Â When one is dealing with minds who manage to cut to the heart of a matter in a sentence or two, who needs an entire legal pad?
In any case, I'm feeling revived and like I have a path, which is really the most important thing in making sure my last 6-7 months in China are as wildly productive as they can be. Â Outside confirmation that your gut was right is always good, but so is that very large nudge to get going with stuff you know you needed to be doing anyways. Â It's also nice to hear that maybe taking a path a bit different from your classmates hasn't had a totally deleterious effect on one's research year. Â Being tossed out of the proverbial nest – so safe, so softly feathered, so sheltered from the outside world! – to fend for yourself (kind of) is a rude shock, so it was with great relief I returned to another familiar, well-trod path and pattern: office hours. Â The more things change, the more they stay the same ….
So I've spent a lot of time hanging out at "my" desk, listening to new-to-me Renaissance choral music (usually not my bag, preferring plain old lute-'n-single singer varieties of early music, but it does have a certain je ne sais quoi and makes me long for collegiate architecture à  la Princeton), and turning back to Meng Chengshun in earnest (which is paying off by turning up interesting and not-so-interesting phrases and other things – having found what is, to date, the least attractive metaphor for someone longing for a loved one I've seen: spitting up pent-up feelings of sadness like a spring silkworm expels threads [of silk] from its mouth).
All in all, I'm finding Beijing to feel more "lived in" than Shanghai (I suppose this makes sense), but I'll be glad to get home to the Concession and the humidity and a different pattern of life. Â But it's been a nice first trip to this city I've read so much about; we'll see what the next few days hold.